Business Enhancement Services

Manufacturing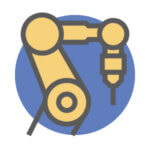 Manufacturing Accounting Services
Brammer & Yeend may not manufacture products or goods, but we do create peace of mind for our clients. With over 30 years of experience working with manufacturing clients, we have learned what is truly important and beneficial to our clients and we can put this experience to work for you.
Whether you need a part-time comptroller to help you oversee your accounting and financial reporting or more specialized services such as cost segregation, R&E credits or 179D tax credits, we have the staff and depth of experience to meet your needs. Also, we can provide outside consulting services, quarterly analysis and an outside look at your company's financial data to give you an alternate perspective.
Brammer & Yeend works with manufacturing companies in Indiana and the Midwest providing the personal touch of a smaller firm, but with the resources of a larger firm.
Our Manufacturing Industry Services:
State and Local and Federal Taxes
Financial Reporting
Tax Planning
Tax Structure
Part-Time Comptroller Services
Bookkeeping
Capitalization of Capital Purchases
Banking: Loan Analysis
R&E Credits
Cost Segregation
179D Tax Credits
Payroll