Business Enhancement Services

Agribusiness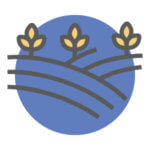 Agribusiness Accounting Services
Growing trust and cultivating peace of mind is just part of what Brammer & Yeend does for the Indiana agribusiness community. Our highly experienced staff not only has the technical skills needed in agribusiness accounting, but they also have a personal connection to the farming industry and community. Knowing agribusiness inside and out allows us to work closely with farmers to provide tax planning advice, tax compliance work, assistance with equipment purchases, estate services, wealth transfer, and generation planning.
Our agribusiness professionals can help you truly understand your operational costs and your true cost of doing business. With this insight, you will be better able to make sound financial decisions both now and in the future. When your business leaders are more accurately informed, they are able to make better decisions and become better leaders.
Brammer & Yeend works with small to mid-sized agribusiness companies all over Indiana providing a personal touch unmatched by larger mega firms.
Our Agribusiness Industry Services:
Tax Planning
Tax Compliance & Preparation
Bookkeeping
Payroll
Financial Reporting
Estate Planning
Succession Planning